Bingo can be a fun game for any occasions
Here is a new way to entertain on a special day by playing a bingo game. You can enjoy the game with classmates, friends or family and bring your mind into this fantastic moment. It is a good way for students to learn vocabulary related to this topic. Teachers can organize the game in minutes and no material is needed other than print the cards and the word list.
Play Bingo with Emojis
Christmas Bingo Cards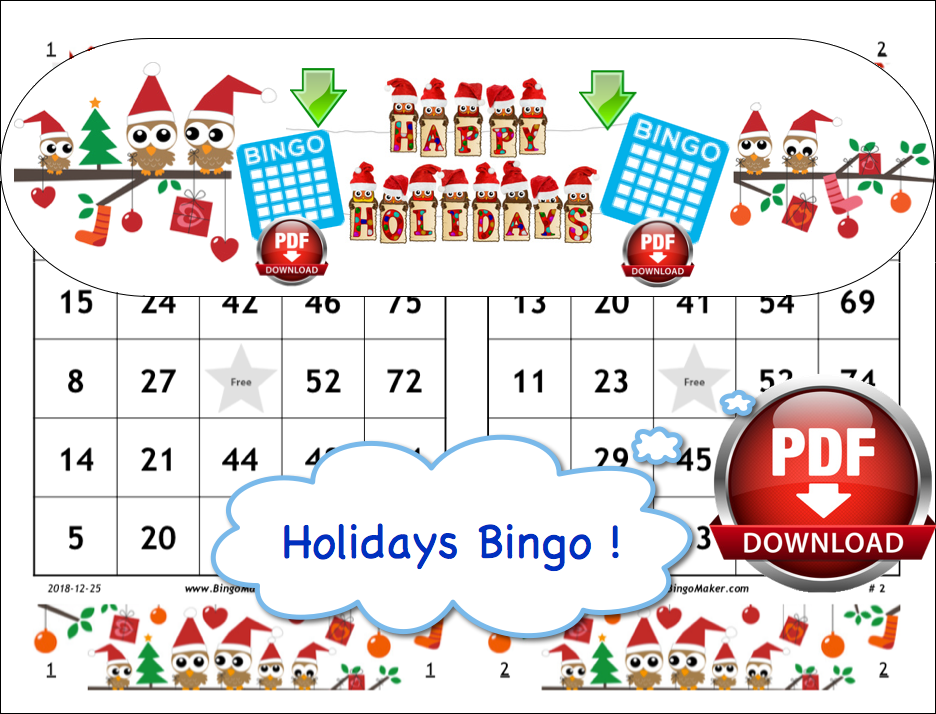 Christmas Bingo Cards with Words
The bingo cards contain 24 random words picked from a list of 100 words related to a special event. You have at your disposal 50 cards if you split in two each page. The list shows the column under which each word can be found on the cards. In order to choose the words randomly, cut the words from the list and place them in a bag or face down on a table and pick them one by one. Print the amount of bingo cards needed and the word list below.
Halloween Bingo
Basic rules
Distribute the cards among players and start the game. Tell the players the words out loud so they can mark them down on their bingo cards. To help the players, the organizer can say under which column "B I N G O" the word can be found. In order to obtain winners, you have to play about 30 to 60 words from the list (learn more about the statistic here).

The player must play five consecutive squares on this card to get a bingo. Confirm if the bingo is valid with the word list and give a prize to the winner.
4 corners method
If you want to make a draw among the winners at the end of the game, you can play the "4 corners method". When a player gets a valid bingo, a corner with his card number is ripped from his card. When you gather enough winners, make a draw among the corners and distribute the prizes.

*bingocardgenerator.com is allowed to provide bingo cards made with Bingo Maker